The Agri-dwarves is a structure. There is a limit of 1 Agri-dwarves on each site Estate/Camp, Emptyland & Dwarfville.
Construction
Edit
Structure Stage
Materials
Reward
Function

Stage 1
bought at Market
6 tasks
2 dwarves
Stage 2
20 Malachite, 10 Fabric, 10 Emerald
FB: 10 Pearls, 10 Fabric, 2 Black pearl
500
Add extra task and 2 dwarves,
total 4 dwarves
Stage 3
50 Malachite, 10 Cambric, 3 Onyx
FB: 20 Pearls, 10 Cambric, 1 Onyx
2000
Add 2 dwarves,
total 6 dwarves
Stage 4
8 Wreath, 8 Velvet, 3 Onyx
3000
Add extra task and 2 dwarves,
total 8 dwarves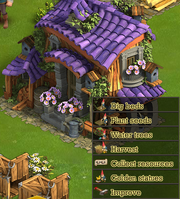 This building provides two dwarves and 6 tasks, with each upgrade you get additional dwarves for a final total of 8 dwarves and 8 tasks.
When assigning them tasks they will use your own energy, so make sure you have enough before sending out an assignment.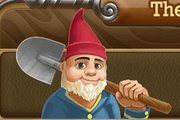 The Dwarves do the following:
Dig beds
Plant seeds
Water trees

water trees and seedlings

Harvest

reap ALL crops that have grown

Harvest Fruits ( Stages 2, 3 & 4 Only )

reap ALL trees that have grown

Collect resources

collect animal output (only animals walking on map, not from coops)

Gold statues

collects ALL golden animals on the map

Nests, Wool, Cans ( Stage 4 Only )

Collects All resources dumped from Farm Buildings exceeding storage limit

Upgrade ( Stages 1, 2 & 3 Only )

This upgrades the building, see above for details.
See, link here
Ad blocker interference detected!
Wikia is a free-to-use site that makes money from advertising. We have a modified experience for viewers using ad blockers

Wikia is not accessible if you've made further modifications. Remove the custom ad blocker rule(s) and the page will load as expected.