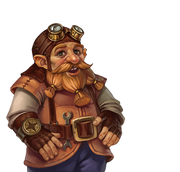 The dwarves are a race of people, living in the Kingdom and the Faraway Lands.
Dwarves in the Kingdom
Edit
Dwarves live in the Kingdom and on the Player's lands, working for and aiding them.
There is a Dwarf Academy dedicated to science.
Dwarves live in the settlement Dwarfville. Dwarves from the Faraway Lands seeking refuge settle there, as do newly freed prisoners who were enslaved by the Northern Bandits and recently freed by the player. The freed prisoners invite the player to rule over them in Dwarfville[1]. Once the player reaches the title of Marquis/Marquise, they are able to access Dwarfville via the Portal.
Dwarves in the Faraway Lands
Edit
Dwarves also lived in the Faraway Lands, but there they were driven out or enslaved by Northern bandits.
In Lake of Sorrow, there lived the wood dwarves[2]; in Mountain Valley there also lived dwarves.
The Ancient Obelisks, the Ancient Swords, and the Sacred Well are monuments that were once worshiped by all dwarven clans.[3]
List of known and/or named dwarves:
Quarry worker(s)
Factory worker(s)
The Six Agri-dwarves???
Dwarf settler: Dwarf figures on the map. Sometimes inert and not interactable, sometimes moveable.
Dwarven operated structure
Edit
Known structure used and operated by dwarves.
Production & Harvest

Quarry

Factory
Lodges
Home of
George (Lady)
Home of
George (Knight)
Home of the
Agri-dwarves

Dwarfville
Craftsmen

Dwarfville
Craftswomen
Travel

Airship

Airship