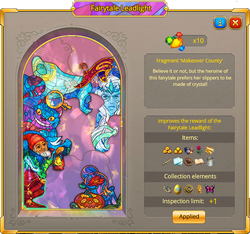 The Fairytale Leadlight is a decoration.
It was part of the 2017-2018 Fairytale Adventures event series.
Construction
Edit
This decoration allows visitor interaction, 15/day. The number of of allowed visitations rises with additional fragments that are bought, usually 1 per fragment.
It can be upgraded with Fairytale Fragments (usually 100

per upgrade), which are gained from the Fairytale Worlds / Fairytale Adventures event series.
Upgrades can be bought in any order. Each upgrade adds a piece of the picture and more rewards for visitor interaction.
Quests using the decoration:
Edit