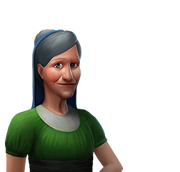 Aunt: Two books. The Housekeeper's Handbook will give you valuable recommendations on housekeeping, this one is from me. The one from Uncle is the Explorer's Handbook with tips on resources needed for your travels. Do not forget to look through them from time to time! Oh, it's time for me to go... See you later, darling!
Player: Goodbye!
Quest description
Edit
Let's start with easy-peasy! Look around, meet your magic dwarf and clear some weeds.
Quest objectives
Edit
| Icon | Quantity | Objective | Skip cost |
| --- | --- | --- | --- |
| | 1 | Expand the game to Full Screen to view the Estate | 1 |
| | 2 | Clear some weeds (click on them) | 1 |
| | 4 | Harvest wheat | 1 |
Quest completion description
Edit
I met my new magic friend. His name is George. He is happy to serve me as a landlady, because he was missing me so much. I need to get to know him better.
Ad blocker interference detected!
Wikia is a free-to-use site that makes money from advertising. We have a modified experience for viewers using ad blockers

Wikia is not accessible if you've made further modifications. Remove the custom ad blocker rule(s) and the page will load as expected.