Quest description
Edit
I decided to give George a holiday to ask him about things. We can play Zonk, eat something nice, and then I'll ask him.
Quest objectives
Edit
| Icon | Quantity | Objective | Skip cost |
| --- | --- | --- | --- |
| | 10000 | Win 10,000 coins playing ZONK and tell George that you are giving him a raise to make him talk. | 3 |
| | 5 | Make cherry brandy and give it to George, he's sure to become chattier. | 5 |
| | 3 | Cast three sixes three times while playing Zonk. George is superstitious -- he'll think it's a sign. | 5 |
Quest completion description
Edit
Once he took a drop, George finally decided to tell me his troubles.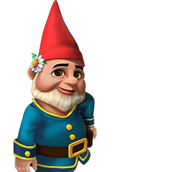 George My lady, you are very kind and you are even going to give me a raise. But money gives me no joy any more. I have other troubles in my life!
Player WHAT TROUBLES?
George You're going to laugh, my lady, but I fell in love. Yet, it looks like the heart of this cold beauty is elsewhere.
Player WHERE?
George There's this nasty piece of dwarf that's been sidling up to Gail with his cart full of stuff. And I, I don't even know how to court ladies.
Player I'LL HELP!
George You are so kind, my lady. You are beautiful, you're sure to have a crowd of admirers. Tell me how to win the beautiful Gail's favor!
Player WE'LL DO IT!
Ad blocker interference detected!
Wikia is a free-to-use site that makes money from advertising. We have a modified experience for viewers using ad blockers

Wikia is not accessible if you've made further modifications. Remove the custom ad blocker rule(s) and the page will load as expected.