Quest description
Edit
I get to escort the Queen today. She is interested in the local flora and fauna, especially in rare flowers and butterflies.
Quest objectives
Edit
Quest completion description
Edit
The queen is generous, I like that.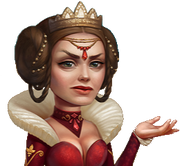 Queen: Oh my knight, I like you more and more. Take this neckerchief and this cambric as tokens of my appreciation!
Player: Thanks!
Ad blocker interference detected!
Wikia is a free-to-use site that makes money from advertising. We have a modified experience for viewers using ad blockers

Wikia is not accessible if you've made further modifications. Remove the custom ad blocker rule(s) and the page will load as expected.