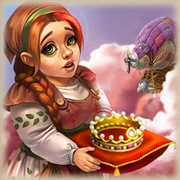 Royal Presents (formerly Royal Gifts) are awarded among players for achieving a title rank in the glory weekly victories.
Upon ranking up the player receives a quest to change their clothes, rewarding them with a gift box.
To see the list of other prizes a player receives upon ranking up, see "Glory".
Royal Presents
Edit
| Gift Size | Title | Description | Content |
| --- | --- | --- | --- |
| Royal Gift I | Lady | | 10 Rubies, 3 Rings |
| Royal Gift II | Grande Dame | | 16 Rubies |
| Royal Gift III | Baroness | | |
| Royal Gift IV | Viscountess | Viscountess' Gift | |
| Royal Gift V | Countess | | |
| Royal Gift VI | Marquise | Marchioness' Gift | |
| Royal Gift VII | Duchess | | |
| Royal Gift VIII | Princess | | |
| Gift Size | Title | Description | Content |
| --- | --- | --- | --- |
| Royal Gift I | Knight | | 10 Rubies, 3 Rings |
| Royal Gift II | Baronet | | 16 Rubies |
| Royal Gift III | Baron | | |
| Royal Gift IV | Viscount | | |
| Royal Gift V | Count | | |
| Royal Gift VI | Marquis | | |
| Royal Gift VII | Duke | | |
| Royal Gift VIII | Prince | | |