Quest description
Edit
In a difficult situation do the simple thing. Uncle loves a good piece of meat. I'll make a treat for him and he is sure to talk. And I can visit my friends on the way.
Quest objectives
Edit
| Icon | Quantity | Objective | Skip cost |
| --- | --- | --- | --- |
| | 4 | Make 4 servings of sausages for you friends and Uncle | 5 |
| | 5 | Visit your friends | 5 |
| | 3 | Serve your friends with sausages | 5 |
Quest completion description
Edit
Uncle just looked at me in silence for a long time, but then he told me why they quarreled...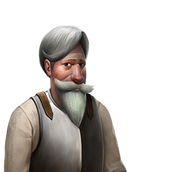 Uncle: The reason for your parents' quarrel you've been told about, my dear, is you. Your mother wanted to take you with them, but your father insisted that you stay with us. It's as if he knew what was going to happen. You know what happened then.
Player: The Death of the Parents
Uncle: Your mother, who was unused to the capital's climate, got hay fever and died in just a few day. Your father, mad with grief, was looking for death and he found it at the lance of a strange BLACK KNIGHT.
Player: ...
Uncle: I remember the day of their departure well. There was a big storm. Your father was grave and thoughtful. He handed you to me and I asked him: "Why are you leaving her?" His answer was strange: "When the passions rage everything is possible".
Player: What happened then?
Uncle: Your father was quiet for a while and then he said: "If anything happens to me and my daughter needs anything, she should remind the villagers of the seven lean years."
Player: I'll remember that...
Ad blocker interference detected!
Wikia is a free-to-use site that makes money from advertising. We have a modified experience for viewers using ad blockers

Wikia is not accessible if you've made further modifications. Remove the custom ad blocker rule(s) and the page will load as expected.