Quest description
Edit
The morning began with George yelling, "AN AIRSHIP, AN AIRSHIP!" I ran outside and there was an amazing machine hanging in the air! It flew above my head throwing out multi-colored papers. I must know what those papers are now!
Quest objectives
Edit
| Icon | Quantity | Objective | Skip cost |
| --- | --- | --- | --- |
| | 5 | Some fliers fell on the grass; tell George to weed grass! | 3 |
| | 10 | The fliers soared above the Grindstone. Look for them there and make some planks while you're at it! | 3 |
| | 20 | The fliers fell in your friends' lands! Check out the mannequins at your Knight-friends! | 5 |
Quest completion description
Edit
Now I know what those papers said. Exciting and dangerous adventures are waiting for me!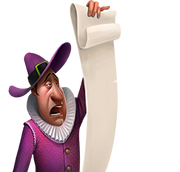 Herold: (Text of the flier)
All noblemen of the Great Kingdom!
The Royal Couple has heard of the events on our northern boundaries.
Lawless Northern Barbarians are attacking our lands!
Player: Yeah, I know!
Herold: (cont.)
It is time to end this!
All noblemen are prescribed to build and air fleet
so as to negotiate with the Northern Range
and to deal with this bane right where it came from.
Player: Interesting!
Herold: (cont.)
By the royal grace
all noblemen are given the secret of the AIRMAST need to moor the shop.
Trained PILOTS are sent to all the lands and towns.
Do not for get to pay them!
Player Pay again?
Herold: (cont.)
As soon as you light the beacon,
all the Pilots will get the signal that you are ready for TRAVEL!
Player Finally!
Herold: (finish)
Remember!
Your goal is to stop the outrage in the Northern Lands!
Whosoever shall distinguish themselves in the GLORIOUS work
shall receive TITLES and LAND as a reward!
Player Now you're talking!