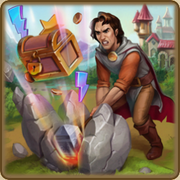 Unwieldy stones, also named Black stones or Lava stones, appear randomly on Estates and other home locations.
They can be cleared away by a Lady with the use of 10 energy, or for free by a Knight Admirer with one hit. The Knight Admirer receives a reward for clearing the stone, and it leaves behind a large treasure chest for the Lady.

Stone Chest:
300-500
10-50
5-8
3-7 Collection items:

flowers, girly, makeup, horse, heraldry, helmet

Item 2-5:

pipe, iron, spindle, cane, silk, onyx

Stones
1800-3000
50-100
0-10
collection 2-3:

girly, horse, gamble, heraldry, helmet, butterflies, makeup

item: 0-3:
compare trash
If you have a sent request to help clean up, but upon arrival at the Lady's Estate there are no stones, then someone else cleaned it up. Any of a Lady's admirers can clean up on their Estate, and cleanup requests are not personalized.